SBL Press Bookstore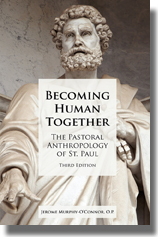 Becoming Human Together: The Pastoral Anthropology of St. Paul, 3rd Edition
Jerome Murphy O'connor
Publication Date
August 2009
Paperback
$32.00
This classic work, now expanded and updated with a fifty-two-page Afterword, presents Paul's pastoral anthropology in terms of his own thought, not alien categories imposed upon him. After examining in part 1 the New Testament witness about Jesus the Christ to discover what humans can be and should be (anthropology), Murphy-O'Connor turns his attention in part 2 to the human condition within society: under sin; alienated from God and the world; and egocentric. Part 3 then discusses life in the body of Christ—the Christian community—as the authentic existence that overcomes egocentric alienation in the true freedom of the mind of Christ.
Jerome Murphy-O'Connor, O.P., has served as Professor of New Testament at the École Biblique et Archéologique Française in Jerusalem since 1972. He is the author of many books on Paul, including Paul: A Critical Life (1998); St. Paul's Corinth: Texts and Archaeology (2002); and Paul: His Story (2006).
Click here for a printable publication sheet that you can put in your files or give to your librarian or bookstore.
Praise for the Earlier Editions:
"Books which deal with aspects of Paul's theology are not hard to find. More rare, however, are those studies which in examining one significant subject of doctrine develop collateral themes sufficiently to give the feeling of both depth and breadth. This is such a book."
— Charles Dillman, Interpretation
"The volume is an excellent Pauline study, and Murphy-O'Connor courageously applies some of the Pauline theology to current issues. …This book is a good resource for pastoral persons as well as New Testament theologians."
— Ernest White, Review and Expositor
"Although the title of this book is rather general, one soon discovers that it is in fact a very specific and well organized discussion of St. Paul's understanding of the dynamics of Christian community. Drawing heavily upon the categories and vocabulary of existentialist philosophy, the author illuminates and clarifies some of the most difficult and controversial elements of Paul's teachings. … All in all, this is a very interesting, thought-provoking and insightful contribution to studies of Pauline theology. It is highly recommended."
Demetrius R. Dumm, Worship