SBL Press Bookstore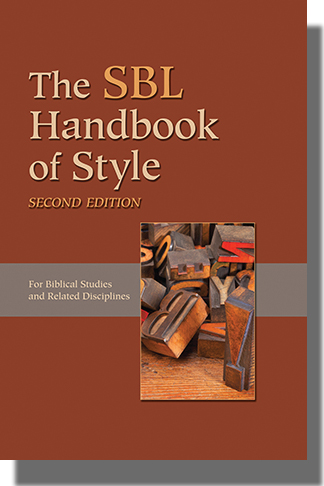 The SBL Handbook of Style, Second Edition
Society of Biblical Literature, editor
Publication Date
November 2014
Hardback
$45.00
The definitive source for how to write and publish in the field of biblical studies
The long-awaited second edition of the essential style manual for writing and publishing in biblical studies and related fields includes key style changes, updated and expanded abbreviation and spelling-sample lists, a list of archaeological site names, material on qur'anic sources, detailed information on citing electronic sources, and expanded guidelines for the transliteration and transcription of seventeen ancient languages.
Features:
Expanded lists of abbreviations for use in ancient Near Eastern, biblical, and early Christian studies
Information for transliterating seventeen ancient languages
Exhaustive examples for citing print and electronic sources
The Society of Biblical Literature, founded in 1880, is the oldest and largest learned society devoted to the critical investigation of the Bible from a variety of academic disciplines.
Download volume front matter, including table of contents and introduction.
Download a printable publication sheet that you can put in your files or give to your librarian or bookstore.
Visit The SBL Handbook of Style blog