SBL Press Bookstore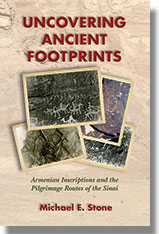 Uncovering Ancient Footprints: Armenian Inscriptions and the Pilgrimage Routes of the Sinai
Michael E. Stone
Publication Date
June 2017
Paperback
$37.00
Explore pilgrimage routes, epigraphy, and the history of writing with an expert guide
From the late 1970s through 1982, Michael E. Stone conducted a number of expeditions to the Sinai peninsula, searching for ancient inscriptions. In this book Stone describes his search, crowned by the discovery of the most ancient Armenian inscriptions known. Here Stone describes not only the inscriptions discovered along his journeys but also the Sinai, its past and present, its human inhabitants, its flora and fauna, and its history. Though once common, well-informed travel books to the Middle East with a broad academic interest and a specific focus have become rare. Stone's diaryof his expeditions in the Sinai fill this gap with vivid descriptions, poetry, and illustrations.
Features
An account of five expeditions into the Sinai
Thirteen poems written by Stone
Twenty-six figures and five maps
Michael E. Stone (Ph.D., Harvard) taught at the Hebrew University of Jerusalem from 1966-2007, where he was Gail Levin de Nur Professor of Religious Studies and Professor of Armenian Studies. He was awarded the earned, senior doctoral degree, D.Litt., by the University of Melbourne and holds honorary doctorates from Hebrew Union College and the National Academy of Sciences of Armenia. He has been awarded the major Israeli National Prize, the Landau Prize for Contribution to the Humanities. Now retired, he continues an intensive program of research.
Download volume front matter, including table of contents and introduction.
Download a printable publication sheet that you can put in your files or give to your librarian or bookstore.