SBL Press Bookstore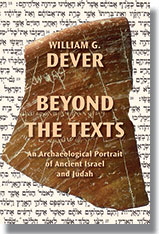 Beyond the Texts: An Archaeological Portrait of Ancient Israel and Judah
William G. Dever
Publication Date
October 2020
eBook
$42.00
A handbook for biblical scholars and historians of the ancient Near East
William G. Dever offers a welcome perspective on ancient Israel and Judah that prioritizes the archaeological remains to render history as it was—not as the biblical writers argue it should have been. Drawing from the most recent archaeological data as interpreted from a nontheological point of view and supplementing that data with biblical material only when it converges with the archaeological record, Dever analyzes all the evidence at hand to provide a new history of ancient Israel and Judah that is accessible to all interested readers.
Features
A new approach to the history of ancient Israel
Extensive bibliography
More than eighty maps and illustrations
William G. Dever is Distinguished Visiting Professor at Lycoming College in Williamsport, Pennsylvania, and Professor Emeritus at the Arizona Center for Judaic Studies at the University of Arizona. Professor Dever has more than fifty-five years of archaeological field experience and is the author of more than four hundred publications.
Download volume front matter, including table of contents and introduction.
Download a printable publication sheet that you can put in your files or give to your librarian or bookstore.
Praise for William G. Dever
In his impressive magnum opus, Dever presents a high-resolution archaeological portrait of ancient Israel and Judah spanning over 500 years of history. Beyond the Texts is a persuasive and definitive response to the "biblical minimalists" who deny the historical dimensions of a biblical Israel. Dever proves that it is possible to write a multidimensional material culture–based history of early Israel and Judah through the lens of archaeology.
Ann E. Killebrew
The Pennsylvania State University
Beyond the Texts is the most significant, original synthesis of archaeological and biblical data relevant for understanding Israelite history produced in decades. It provides a cornucopia of information and insights to archaeologists, biblicists, and historians.
In this encyclopedic yet very readable book, Dever spells out the analytical methodologies that he deploys when appraising the significance of archaeological and biblical data and of their past interpretations. He arranges these data into useful categories so as to illustrate what may be inferred from them about general or specific aspects of Israel's political, social, economic, and religious life during the Iron Age.
Dever's devastating critique of mistaken and misleading assertions by some scholars and his evaluations of what is and is not relevant for advancing scholarly discourses establishes this book as a bedrock that will make yet-to-be-written twenty-first-century histories of ancient Israel possible.
Ziony Zevit
American Jewish University