SBL Press Bookstore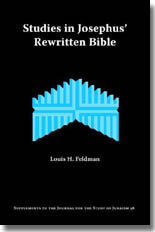 Studies in Josephus' Rewritten Bible
Louis H. Feldman
Publication Date
December 2005
Paperback
$52.00
The present volume, consisting of thirty-five studies of various portions of Josephus' Jewish Antiquities, is an attempt to examine the oldest systematic commentary on the historical books of the Bible that has come down to us. It considers how Josephus resolves apparent contradictions, obscurities, and theological and other questions, as well as the historicity of biblical events, which have puzzled classical commentators on the Bible. It attempts to explain cases, notably Ahab, Hezekiah, Jehoiachin, and Zedekiah, where Josephus seems to change the biblical text radically. Included are Josephus' interpretations of several prophets, women, and non-Jewish leaders.

All these studies have previously appeared in print over a period of almost three decades in thirty-four different publications. However, they have been edited, corrected, and updated in many ways. This volume will be of particular appeal to readers interested in Jewish scriptures, ancient Jewish history, ancient Greek and Roman historiography, ancient anti-Semitism, origins of Christianity, Jewish religion, relations between Jews and non-Jews, and conversion to Judaism.

Louis H. Feldman, Ph.D. (1951) in Classical Philology, Harvard University, is Professor of Classics at Yeshiva University. He has written Jew and Gentile in the Ancient World (Princeton University Press) and Studies in Hellenistic Judaism (Brill).