SBL Press Bookstore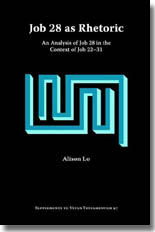 Job 28 as Rhetoric: An Analysis of Job 28 in the Context of Job 22-31
Allison Lo
Publication Date
December 2005
Paperback
$32.00
This study seeks to argue that Job 28 is an integral part of the book as it stands and that it is Job's speech. Job 28 serves a special rhetorical function within the book and, more specifically, within chapters 22–31.

This work provides a significant interpretative key to Job 28 within the most perplexing section of the book (Job 22–31). Job 28 is in contradictory juxtaposition with other sayings of Job. However, this study argues that such contradictory juxtaposition is a feature of Job's speeches in chapters 22–31 and is part of the author's strategy to make a rhetorical impact upon the audience.

Alison Lo, Ph.D. (2002), University of Gloucestershire, is Assistant Professor of the Hebrew Bible at the Chinese University of Hong Kong (2004–).