SBL Press Bookstore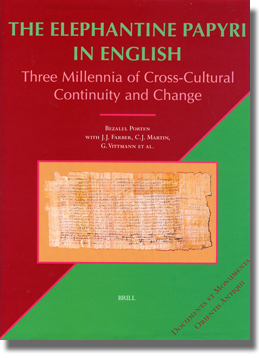 The Elephantine Papyri in English: Three Millennia of Cross-Cultural Continuity and Change, Second Revised Edition
Bezalel Porten
Publication Date
November 2011
Paperback
$82.00
This important volume contains 175 documents from the Egyptian border fortresses of Elephantine and Syene (Aswan), which yielded hundreds of papyri in hieratic, Demotic, Aramaic, Greek, Latin, Arabic, and Coptic, spanning a period of 3,000 years. The documents include letters and legal contracts from family and other archives, and are thus an invaluable source of knowledge for scholars of varied disciplines, such as epistolography, law, society, religion, language, and onomastics. The volume includes seven sections, each containing carefully translated and extensively annotated documents of one language group. Excellent cross-referencing allows the user to trace forerunners and successors. Each section is preceded by an introduction; the Aramaic, Demotic, and Greek sections are concluded with a prosopography. The book closes with a select topical index.
Bezalel Porten received his PhD from Columbia University in 1964 and since 1999 has been Professor Emeritus in the Department of Jewish History of the Hebrew University in Jerusalem. He is the author and co-author of numerous studies on the Elephantine papyri and, with Ada Yardeni, author of Textbook of Aramaic Documents from Ancient Egypt (4 volumes).
Praise for the first edition
"This is a groundbreaking work, intensely focused in its conception, comprehensive in scope, a priceless resource for students of law, society, and history. I wish I had written it."
— Joseph Mélèze-Modrzejewski, Professeur à la Sorbonne-Université de Paris-I and author of Droit et justice dans le monde grec et hellénistique (2011) and The Jews of Egypt (1997)

"This publication, unique in its conception, provides the English reader with a window into three thousand years of continuity and change in the archival documents of a major Ancient Near Eastern site. It is an essential resource for all those interested in the social, political, religious, legal, or linguistic history of Upper Egypt and those who lived in it andruled it from earliest historical times up to the rise of Islam."
— Stephen A. Kaufman, Professor of Bible and Cognate Literature, Hebrew Union College–Jewish Institute of Religion, Cincinnati, Ohio; Editor-in-chief, the Comprehensive Aramaic Lexicon Project
Praise for the second revised edition
"There have been many books and articles about the ancient Jewish community of Elephantine in Egypt, first discovered more than a century and a half ago. But this book is unique: the only one to set that community within the sources for Elephantine and its environs over three millennia of Near Eastern history, from the Egyptian Old Kingdom to the early Islamic period. Porten's book thus opens up Elephantine as a laboratory for studying long-term historical continuity and change in many dimensions. The challenge here is greatly enhanced by the meticulous presentation of the diverse textual sources for Elephantine, carried out by Porten and his associates; accompanying the careful translations are concise and yet comprehensive introductions to the texts and their historical contexts, detailed philological notes, and indices to the persons and topics mentioned. For the present new edition, the whole has been brought up to date, reconsidering issues of translation and historical background, and supplying missing textual elements. One can only congratulate Bezalel Porten for a major achievement: giving new life and accessibility to a volume that will remain an essential reference on Elephantine and much more in the ancient and classical history of the Near East."
— Peter Machinist, Hancock Professor of Hebrew and Other Oriental Languages, Harvard University.
Click here for the volume front matter, including the table of contents and forewords.
Click here for a printable publication sheet that you can put in your files or give to your librarian or bookstore.