SBL Press Bookstore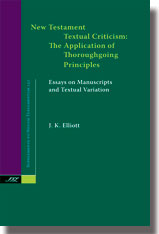 New Testament Textual Criticism: The Application of Thoroughgoing Principles, Essays on Manuscripts and Textual Variation
J. K. Elliott
Publication Date
December 2014
Paperback
$82.00
A life's work in one complete volume for students and scholars
J. K. Elliott has been identified as one of the main exponents of so-called thoroughgoing textual criticism. Essays cover a range of topics including textual criticism's relevance for the discussion of the synoptic problem and a number of assessments of printed editions of the Greek New Testament. A bibliography of Elliott's writings appears at the end.
Features:
Paperback of the original Brill edition
Fifty-seven essays on methodology and praxis
A selection of important textual variants
J. K. Elliott was Professor of New Testament Textual Criticism at the University of Leeds. He specialized in New Testament textual criticism and in early non-canonical Christian literature.
Download volume front matter, including table of contents and introduction.
Download a printable publication sheet that you can put in your files or give to your librarian or bookstore.