SBL Press Bookstore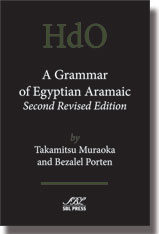 A Grammar of Egyptian Aramaic
Takamitsu Muraoka, Bezalel Porten
Publication Date
December 2014
Paperback
$62.00
A required resource for every Aramaist, Semitist, and historian in the field
This grammar of Egyptian Aramaic focues on the language as it is presented in texts of Egyptian provenance dating from the middle of the first millennium BCE. The authors cover phonology, morphology, morphosyntax, and syntax.
Features:
Paperback format of an essential Brill hardcover reference book
Expert knowledge from specialists in the field
Complete text of the second revised edition
Takamitsu Muraoka is Professor Emeritus of Hebrew Language and Literature, Israelite Antiquities, and Ugaritic at the State University of Leiden, The Netherlands. His past publications deal with the Hebrew/Aramaic/Syriac linguistics and the ancient versions of the Old Testament.
Bezalel Porten is Professor Emeritus in the Department of Jewish History of the Hebrew University in Jerusalem. He is the author and co-author of numerous studies on the ancient Egyptian Aramaic texts and on the Elephantine papyri.
Download a printable publication sheet that you can put in your files or give to your librarian or bookstore.