SBL Press Bookstore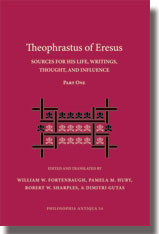 Theophrastus of Eresus: Sources for His Life, Writings, Thought, and Influence (2 Volumes)
William W. Fortenbaugh, editor
Publication Date
January 2015
Paperback
$102.00
The first stage of a multi-volume translation now in paperback
These two volumes present texts, critical apparatus, and English translation of fragments and testimonia relating to Theophrastus, Aristotle's pupil and successor as head of the Lyceum. Texts include an introduction, an index of Theophrastean texts, and concordances with other collections.
Features:
Paperback format of an essential Brill hardcover reference set
Translations that make use of more recently discovered textual witnesses
Texts of an important post-Aristotliean philosopher
William Fortenbaugh is Professor Emeritus of Classics at Rutgers University, the author of Aristotle on Emotion (1975), Director of Project Theophrastus, co-editor of the collected fragments (1992) and editor of Theophrastus On Sweat (2003).