SBL Press Bookstore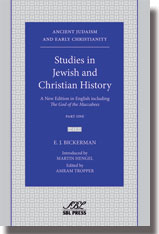 Studies in Jewish and Christian History: A New Edition in English including The God of the Maccabees (2 Volumes)
E. J. Bickerman
Publication Date
January 2015
Paperback
$72.00
A classic resource on the Second Temple period
Elias Bickerman's Studies in Jewish and Christian History and The God of the Maccabees are foundational studies for students and scholars of Second Temple Judaism and early Christianity. This two-volume paperback set makes these texts available in a convenient format.
Features:
Paperback format of an essential Brill reference set
English translation of key studies
Introduction by Martin Hengel
E. J. Bickerman (1897–1981), was a professor of ancient history at Columbia University and a special research fellow at the Jewish Theological Seminary.