SBL Press Bookstore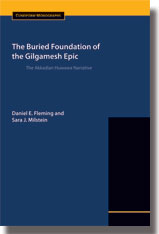 The Buried Foundation of the Gilgamesh Epic: The Akkadian Huwawa Narrative
Daniel E. Fleming, Sara J. Milstein
Publication Date
December 2014
Paperback
$38.00
A fresh look at the sources behind the Akkadian Gilgamesh Epic
Contrasts in characterization and narrative logic distinguish the adventure to defeat the monster Huwawa from what precedes and follows it in the Akkadian Gilgamesh Epic. Fleming and Milstein argue that the Huwawa narrative must have been composed from a prior Akkadian composition that stood on its own.
Features:
Paperback format of an essential Brill reference set
Analysis that quesitons the origin of the Huwawa narrative
Methods of literary-historical investigation from contemporary texts applied to the ancient Akkadian
Daniel E. Fleming is Professor of Hebrew and Judaic Studies at New York University. He has published three books on ancient Syria, as represented by the archives of Emar and Mari.
Sara J. Milstein is Assistant Professor of Hebrew Bible at the University of British Columbia in Vancouver. She is interested in the reading of revised texts in antiquity.
Download volume front matter, including table of contents and introduction.
Download a printable publication sheet that you can put in your files or give to your librarian or bookstore.