SBL Press Bookstore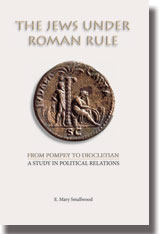 The Jews under Roman Rule: From Pompey to Diocletian: A Study in Political Relations
E. Mary Smallwood
Publication Date
January 2015
Paperback
$79.00
A classic resource on Jewish history now in paperback
Smallwood traces Judaism's constantly shifting political, religious, and geographical boundaries under Roman rule from Pompey to Diocletian. Smallwood illustrates how the shift from Roman pagan rule to Christian Roman rule affected Judaism's position, pushing it from being a long-standing nationalistic tradition that was tolerated to one that was viewed as something that needed to be repressed and confined.
Features:
Coverage of Jewish history in Palestine and the diaspora
Maps and charts
Paperback edition of the Brill hardcover
E. Mary Smallwood was professor of Romano-Jewish history at Queen's University, Belfast.