SBL Press Bookstore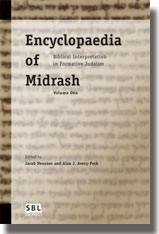 Encyclopaedia of Midrash: Biblical Interpretation in Formative Judaism
Jacob Neusner, Alan J. Avery Peck, editors
Publication Date
February 2016
Paperback
$152.00
Now in Paperback!
The Encyclopedia of Midrash provides readers with a deep, broad treatment of midrash unavailable in any other single source. Through the writings of top scholars in each of their fields, it sets out the current state of the question for the many topics discussed throughout the two-volume set. The encyclopedia treats interpretations of Scripture that came to closure prior to, or outside of, the framework of rabbinic midrash: Hellenistic Jewish midrash, Josephus, Pseudo-Philo, Jubilees, as well as to the New Testament, Karaite and Samaritan writings, and the Dead Sea Scrolls.
Features:
Paperback format of an essential Brill hardcover reference set
A general introduction to rabbinic midrash and its traits
Discussion of rabbinic midrashic documents focused on specific books of Scripture, the theology expressed by rabbinic midrashic compilations, and the historical context in which rabbinic Midrash took shape
Jacob Neusner is Distinguished Service Professor of the History and Theology of Judaism at Bard College, Annandale-on-Hudson, NY. He is a Life Member of Clare Hall, Cambridge University, and a Member of the Institute of Advanced Study, Princeton, NJ. He is an author and editor of hundreds of books and articles.
Alan J. Avery-Peck is Kraft-Hiatt Professor of Judaic Studies at the College of the Holy Cross, in Worcester, Massachusetts. He is an author, co-author, and editor of numerous books and articles.