SBL Press Bookstore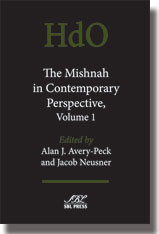 The Mishnah in Contemporary Perspective, Volume 1
Alan J. Avery Peck, Jacob Neusner, editors
Publication Date
March 2016
Paperback
$47.00
Now in Paperback!
In the past thirty years, the Mishnah has taken its place as a principal focus in the academic study of religion and of Judaism. Many university scholars have participated in the contemporary revolution in the description, analysis, and interpretation of the Mishnah. Nearly all the publishing scholars of the academy who are now at work are represented in this project. Both essential volumes present a broad selection of approaches to the study of the Mishnah. What they prove in diverse ways is that the Mishnah defines the critical focus of the study of Judaism. It is a document that rewards study in the academic humanities.
Features:
The best of contemporary scholarship on the Mishnah
The most representative selection of contemporary Mishnah-study contributions available in any collection in a Western language
Paperback format of an essential Brill reference work
Alan J. Avery-Peck is Kraft-Hiatt Professor of Judaic Studies at the College of the Holy Cross, in Worcester, Massachusetts. He is an author, co-author, and editor of numerous books and articles.
Jacob Neusner is Distinguished Service Professor of the History and Theology of Judaism at Bard College, Annandale-on-Hudson, NY. He is a Life Member of Clare Hall, Cambridge University, and a Member of the Institute of Advanced Study, Princeton, NJ. He is an author and editor of hundreds of books and articles.
View volume 2 of this set.