SBL Press Bookstore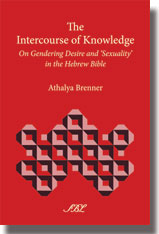 The Intercourse of Knowledge: On Gendering Desire and 'Sexuality' in the Hebrew Bible
Athalya Brenner
Publication Date
February 2016
Paperback
$37.00
Now in paperback!
This groundbreaking book, which builds on the author's earlier work in On Gendering Texts, studies how, by what means, and to what extent human love, desire and sex, and possibly even "sexuality," are gendered in the Hebrew Bible. The investigation looks into the construction of male and female bodies in language and ideologies; the praxis and ideology of sex, procreation, and contraception; deviation from socio-sexual boundaries (e.g. incest, rape, adultery, homosexuality, prostitution); eroticism and "pornoprophetics."
Features:
Paperback format of an essential Brill monograph
A classification and gendering of the linguistic and semantic data
Discussion of wider sociological and theological implications
Athalya Brenner-Idan is Professor Emerita of the Hebrew Bible/Old Testament Chair at the Universiteit van Amsterdam, The Netherlands. She currently teaches in Biblical Studies in the Department of Hebrew Culture Studies, Tel Aviv University, Israel. She is President of the Society of Biblical Literature (2015).