SBL Press Bookstore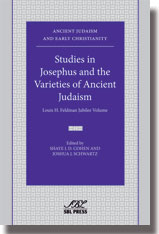 Studies in Josephus and the Varieties of Ancient Judaism: Louis H. Feldman Jubilee Volume
Shaye J. D. Cohen, Joshua L. Schwartz, editors
Publication Date
February 2016
Paperback
$52.00
Now in paperback!
Former students, colleagues and friends of the eminent classicist and historian Louis H. Feldman are pleased to honor him with a Jubilee volume. While Feldman has long been considered an outstanding scholar of Josephus, his scholarly interests and research interests pertain to almost all aspects of the ancient world and Jews.
Features:
Paperback format of an essential Brill resource
Articles cover topics such as biblical interpretation, Judaism and Hellenism, Jews and Gentiles, history of the Mishnah and Talmud periods, and Jerusalem
Contributors include the most prominent international scholars
Shaye J.D. Cohen, is Littauer Professor of Hebrew Literature and Philosophy, Harvard University. He is the author of Josephus in Galilee and Rome (Brill, 1979), and editor of Morton Smith Studies in the Cult of Yahweh (Brill, 1996).
Joshua Schwartzis Dean, Faculty of Jewish Studies and Director, Ingeborg Rennert Center for Jerusalem Studies, Bar-Ilan. He is the editor of Saints and Role Models in Judaism and Christianity (Brill, 2004).