SBL Press Bookstore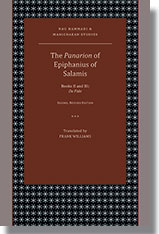 The Panarion of Epiphanius of Salamis: Books II and III; De Fide
Frank Williams
Publication Date
January 2017
Paperback
$92.00
Now in paperback from SBL Press
This volume of Frank Williams translation includes Books II and III of the
Panarion
.The book is chiefly concerned with the Arian, Manichaean, and other sects contemporary with Epiphanius. It thus describes the thought of the fourth century church, and includes a number of source documents, many of them found only here. Frank Williams offers the only full translation of Epiphanius in a modern language.
Features:
Paperback format of an essential Brill translation
Coverage of Gnostic and Jewish Christian groups
Frank Williams is retired from the Religious Studies Program at the University of Texas at El Paso. He has translated the whole of Epiphanius's Panarion and published works on the Nag Hammadi tractates and the Codex Tchacos (Gospel of Judas).
Download a printable publication sheet that you can put in your files or give to your librarian or bookstore.