SBL Press Bookstore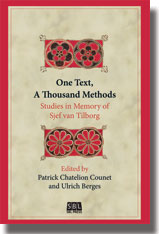 One Text, A Thousand Methods: Studies in Memory of Sjef van Tilborg
Patrick Chatelion Counet, Ulrich Berges
Publication Date
July 2016
Paperback
$59.00
A Brill classic now in paperback from SBL Press
Essays in this volume describe the shift in biblical exegesis within the last several decades from the interpretation of biblical texts as the outcome of historical development, or diachronic methodology, to the exploration of the text as the result of a reading process rather than a historical process, or synchronic methodology. The methods discussed include ideology criticism, semantic and poetic analysis, cognitive linguistics, drama theory, narratology, deconstruction, and anthropology, and intertextuality. The authors of this work challenge biblical scholars not to just perform exegesis, but to explore the methods and aims underlying their interpretations.
Features:
Essays examine texts from the Old or New Testament through the lens of one of the many modern synchronic methods used in postmodern literary interpretation
Fifteen essays from top scholars in the field
Patrick Chatelion Counet is Professor in the Faculty of Humanities of the University of Amsterdam.
Ulrich Berges is Professor of Old Testament Studies at the Rheinische Friedrich-Wilhelms-Universität Bonn. He has published mainly on the books of Samuel, Isaiah, Lamentations, Psalms, and Job.