SBL Press Bookstore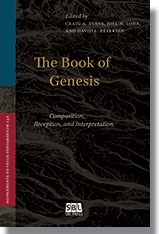 The Book of Genesis: Composition, Reception, and Interpretation
Craig A. Evans, Joel N. Lohr, David L. Petersen, editors
Publication Date
February 2017
Paperback
$102.00
NowinpaperbackfromSBLPress
This anthology offers a wide-ranging treatment of the main aspects of Genesis study. Its twenty-nine essays fall under four main sections. The first section contains studies of a more general nature, including the history of Genesis in critical study, Genesis in literary and historical study, as well as the function of Genesis in the Pentateuch. In the second portion, scholars present commentary on or interpretation of specific passages (or sections) of Genesis, as well as essays on its formation, genres, and themes. The third part includes essays on the textual history and reception of Genesis in Judaism, Christianity, and Islam. The final section explores the theologies of the book of Genesis, including essays on Genesis and ecology and Genesis in the context of Jewish thought.
Features:
An affordable edition of an essential Brill hardcover reference work
Essays by leading experts in the field
CraigA.Evans is Dean of the School of Christian Thought and John Bisagno Distinguished Professor of Christian Origins at Houston Baptist University in Houston, Texas. He has published more than 600 scholarly studies, including more than 70 books
JoelN.Lohr is the Dean of Religious Life at the University of the Pacific. He is the author or editor of a number of books, most recently he has co-wrote TheHebrewBibleforBeginners:AJewish&ChristianIntroduction.
DavidL.Petersen is Franklin N. Parker Professor Emeritus of Old Testament at Candler School of Theology. He was the senior Old Testament editor for TheNewInterpreter'sBibleand the Old Testament editor for The Common English Bible.
Download a printable publication sheet that you can put in your files or give to your librarian or bookstore.