SBL Press Bookstore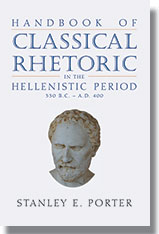 Handbook of Classical Rhetoric in the Hellenistic Period (330 B.C.-A.D. 400)
Stanley E. Porter, editor
Publication Date
April 2017
Paperback
$102.00
A Brill reference now in paperback
SBL Press now offers a paperback edition of Brill's comprehensive introduction to classical rhetoric as practised in the Hellenistic period. The three sections define the major categories of rhetoric, analyze rhetorical practice according to genre, and treat individual writers in the rhetorical tradition.
Features:
Topics, including philosophy, biography, romance, apocalypticism, and prophecy
Discussion of poetry, homilies, letters, and prose
Analysis of writers from the Greek, Roman, and near Eastern regions
Stanley E. Porter is President, Dean, and Professor of New Testament at McMaster Divinity College in Hamilton, ON, Canada. He is the author of more than 30 books and 300 articles and has edited more than eighty volumes.