SBL Press Bookstore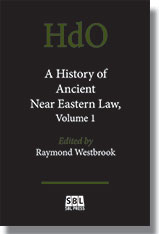 A History Of Ancient Near Eastern Law
Raymond Westbrook, editor
Publication Date
March 2017
Paperback
$152.00
A two-volume Brill reference set now in paperback
This SBL Press reprint of Brill's two-volume comprehensive survey of the world's oldest known legal systems, is a collaborative work of twenty-two scholars that covers more than 3,000 years of legal history of the ancient Near East. Each of the book's chapters represents a review of the law of a particular period and region. The chapters are arranged chronologically by millennium and within each millennium by the three major politico-cultural spheres of the region: Egypt, Mesopotamia, and Anatolia and the Levant. An introduction by the editor discusses the general character of ancient Near Eastern law.
Features:
Coverage of the third and second millennium in volume one and the first millennium in volume two
Twenty-five essays and an introduction
Analysis of international law by time period
Raymond Westbrook was W.W. Spence Professor in Semitic Languages at the Johns Hopkins University and a trained lawyer. He published extensively on the legal systems of the ancient Near East, Greece, and Rome.